Custom Boss Bobbleheads As 2023 Boss Day Gifts
Custom Boss Bobbleheads As 2023 Boss Day Gifts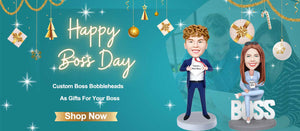 October 16th is "Boss Day" in the United States, which is a perfect opportunity to say thank you to a boss or supervisor who has guided and helped us in our work. Although there are many people who think that this is not a necessary celebration, there is no denying that if you seize this opportunity, it will have a positive impact on your work. While traditional gifts like cards and custom water bottles are great, why not try a newer and more fun gift this year with a custom boss bobblehead?
Why give a gift to your boss?
Show appreciation: Giving a gift on Boss's Day to a leader or boss who has helped you grow at work is a tangible way to express gratitude. It is a particularly lucky thing to meet a leader who is willing to give you opportunities and help you progress in the workplace. Not everyone has such opportunities. So why not take advantage of this special day to acknowledge your leaders' help and show your appreciation by giving gifts?
Enhance team building: In addition to individuals, we can also give gifts to the boss in the name of the project team. During the gift selection process, allowing more colleagues to discuss and contribute their ideas can also promote teamwork and enhance team energy.
Recognition Milestones: When an employee does a good job, the boss or leader will acknowledge them in the form of praise or bonuses. For the boss, receiving gifts from employees on Boss's Day is recognition of the boss's work, which means that we support the boss's decision-making.
Promote communication and enliven the work atmosphere: Boss Day can serve as a great opportunity to have a meaningful conversation with your boss. When giving a gift, you can express your appreciation and, if appropriate, discuss any thoughts or concerns you have about the work. This open communication can improve working conditions and solve problems. At the same time, when we take the time to celebrate Boss Day, we can create a distance between boss and employee and enliven the work atmosphere.
Why Customize Boss Bobblehead as a Gift?
When we choose a gift for our boss, what we should pay attention to is not the monetary value of the gift, but the emotion behind the gift. Well-chosen gifts can show your boss you care and go a long way toward building positive relationships and creating a healthy and productive work environment. A custom bobblehead gift can keep your boss's eyes on you!
Personalization: Custom bobbleheads allow you to capture a portrait of your boss, including their poses, outfits, and even facial expressions. You can also customize the type of bobblehead by knowing the boss's interests. For example, if your boss likes sports, you can customize golf, basketball, soccer, and other types of bobble heads to suit his interests. Unlike a typical gift, a bobblehead is a personal and unique representation of your boss, and the boss will feel your heart and effort when he gets a miniature version of the statue.
Affordable: Unlike brand-name luxury products, these unique bobbleheads cost between $60 and $100, making them affordable for most people. At the same time, Figure Bobblehead also designed a Boss Day themed doll, you can choose those with the "best boss" and other features of the doll.
Relieve stress: The bobblehead's swinging head is an effective way to relieve stress. When your boss is stressed at work or encounters difficulties, he can pat the doll on the head at any time. This is a fun way to relieve tension.
Long-lasting souvenirs: Unlike traditional gifts, bobbleheads are mostly made of polymer clay and are durable enough to last for years. Your boss can proudly display it on his desk or at home. It can remind them of the team and their time as a leader. At the same time, they can be a constant reminder of your gratitude and can go a long way to bringing a smile to your boss's face.
For Boss's Day 2023, ditch those traditional gifts and surprise your boss with a custom bobble head doll that resembles his! It's a thoughtful, personal, and memorable gift that will no doubt bring a smile to bosses' faces. Remember, the best gifts are those that reflect your heart, and a custom boss bobblehead can do just that.