Figure Bobblehead Blog
In the world of personalized memorabilia, custom bobbleheads have carved out a unique niche. These mini-nodding figurines have become a popular choice for those seeking quirky and personalized Christmas gifts for themselves or their loved ones.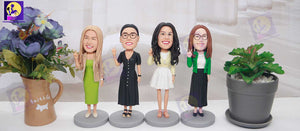 For me, I focus more on the personal touch and uniqueness of a gift. So why not 
make a bobblehead
 as a unique and memorable gift? Best of all, these whimsical, customizable bobble heads are popular as personalized gift options that can bring a smile to anyone's face.
Firefighters deserve our respect and need to be appreciated from time to time, which is an important reason why we promote custom firefighter bobbleheads as gifts.