Figure Bobblehead Blog
An idea can sometimes be a goldmine and ideas for 
custom bobble head
 are no exception. In fact, bobblehead dolls built on a solid idea, goal, or strategy can help you rake in dollars even after you stop using them. But when you start using it and you see firsthand its effects, you really wouldn't want to stop using them.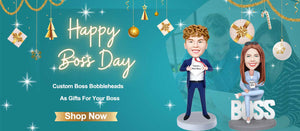 October 16th is "Boss Day" in the United States, which is a perfect opportunity to say thank you to a boss or supervisor who has guided and helped us in our work. While traditional gifts like cards and custom water bottles are great, why not try a newer and more fun gift this year with a custom boss bobblehead?
Bobbleheads are mostly known as cute and lovely gifts, but very less people know that these small lovely creations can be a source of handsome income as well.