2021 Christmas Gift Helper --- Custom Bobbleheads
2021 Christmas Gift Helper --- Custom Bobbleheads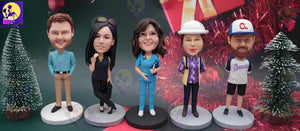 According to our customers' feedback, custom bobbleheads dolls were their most surprising Christmas gifts in 2020. The people who received the gifts were surprised by the amazing similarity of these personalized bobbleheads, and couldn't stop laughing. So why don't you make bubblehead your top Christmas gift for 2021?
The Christmas gift should be a statement of your personality and say something about the receiver too. We provide you with a variety of personalized gift lists. 
When Christmas comes, the busiest is our lovely Santa Claus, who is busy distributing gifts to every household and sending blessings to those lovely children. And we decorate our home by buying various Santa Claus ornaments. And why don't we try to turn everyone in the family into Santa Claus? Enjoy these cute Santa Claus dolls together.
 Funny Christmas Lady Sitting on Chimney Custom Figure Bobblehead 

Sweet Christmas Couple Holding Hands Custom Figure Bobblehead
Female In Christmas Costume With Gift And Christmas Tree Custom Bobbleheads
These unique gifts are perfect for any aspiring superhero or Harry Potter family member who wants to add a little superpower! Just choose the superhero or fictional model you want to be, upload your photo, and you can be him!
Superhero Batman Custom Bobblehead
Superhero Dad Hugs Daughter Custom Superman Bobblehead
Superhero Spiderman Custom Bobblehead
Let's say you and your friend went skiing last year and have some wonderful memories that you want to preserve. Well, just put one of the sweet pics of the skiing on the bobble dolls and gift it to your friend this Christmas. This is definitely the most meaningful Christmas gift your friend received.
Fully Customizable Bobblehead for 1 Person
Fully Customizable Bobblehead for 2 Person
Why not choose one unique Christmas gift for coworkers to thanks for the collaborations and friendships your colleagues provide? Especially under the influence of COVID, you and your colleagues may only be able to work online. Imagine if your colleagues can get the doll with a message "Worked the butt, now spin your head". The ideas can be endless, personal, and creative.
Custom Real Estate Realtor Bobblehead
Business Suit Office Man With Thumbs Up Custom Figure Bobblehead
1.5 Engraved Custom Wooden Photo
The best way to add extra uniqueness to a gift is when you add a little personalization. Photos and engraved texts on wooden are always a good idea. Just upload the photo, then we engrave it for you.
When you have chosen a unique Christmas gift, you also need a surprise card to express your wishes to others. 3D Christmas cards are the trend this year. 
 All in all, I found these great latest Christmas gift ideas quite appealing and that brings in all the three criteria of being unique, personal & inexpensive. The recall value for something like custom bobbleheads, which is usually found on people's cars, desks, or living rooms, is immense and is sure to make you popular among family and friends.