2021 Custom Bobbleheads Reviews From Figure Bobblehead Customers
2021 Custom Bobbleheads Reviews From Figure Bobblehead Customers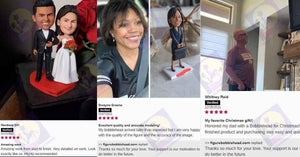 Over the past year of 2021, we have made custom bobbleheads for over 10,000 customers! What makes us even more gratified is that, more than 95% of customers are satisfied with our bobbleheads. In order to continue to provide better products to customers in 2022, we decided to share some valuable testimonials. We will give targeted answers to the doubts about custom dolls raised by customers in the evaluation.
1: Do we provide face proofs of bobbleheads to customers?
Due to the development of the Internet, customers can easily find many bobbleheads suppliers on Google, but there are only a few with consistent quality and good service. Some of our customers once told us in an email that the dolls they ordered on other websites did not provide faces for them to confirm.
As a result, the customers received dolls that did not look like them at all and could only be thrown away as garbage. But Figure Bobblehead will provide customers with a face sample service via email within a specified time after the customer places an order.
Because our figures are all handmade, it is difficult for us to guarantee 100% similarity. In order to provide bobble heads with high similarity as much as possible, various measures have been taken, such as providing face proofs for customers to confirm, unlimited revisions, and so on. Because every step of our order making is approved by customers, more than 95% of our customers are very satisfied with the similarity of products.
In addition to our own efforts, the high-quality pictures provided by customers are also the beginning of success. Please note that once the product is made, the referenced image cannot be changed. Of course, if you are not satisfied with the face sample you received and are unwilling to modify it again, don't worry, we have perfect refund terms to ensure your rights and can refund 70% of your total order amount.
3: How long does a customized bobblehead take?
Customizable bobbleheads take some time to produce. That is since we will separately sculpture your purchased products. We'll likewise contact you to guarantee that you're pleased with the making, which at least needs 15-40 business days to get you bobbleheads. 
If you have specific requirements on the time of receipt of the goods, please contact us at sale@figurebobblehead.com and we will assist you. (Please refer to our FAQ page)
Getting your own custom bobblehead is enjoyable. Be truthful. You have had a minimum of one bobblehead doll in your entire life. This is since they're really amusing and it is really simple to have fun with them. You can simply show it on practically any type of table or rack and give the head a slight tap and it can quickly attract a grin from you.