Custom Bobbleheads To Thanks Your Boss-- Best Gifts Ideas for 2023 Boss's Day
Custom Bobbleheads To Thanks Your Boss-- Best Gifts Ideas for 2023 Boss's Day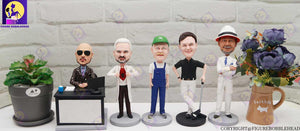 October 16th is the National Boss's Day in the United States. As an employee or partner, are you still worried about what gifts are selected for your boss? Why not try to surprise your boss by customing bobbleheads dolls?

On Boss' Day in past few years, many of our customers have personalized bubble head dolls for their bosses. One of our customers emails us and said: "My boss too praised me and hinted that my appraisal is going to get a few more positive notes this year. This latest boss gift idea has proved to be one of the best decisions of my career."


We have different types of bobble head models for you to choose. As for which type to choose, it depends on your industry and your boss's usual hobbies. At the same time, we have also compiled the most popular Boss's Day dolls in 2023.

Custom Bobble Head For Boss In Suits
A bobble head model wearing a professional suit can better reflect the professionalism of the boss. We recommend it more for lawyers, civil servants, corporate employees and so on. After the boss receives the gift, he can put it on the desk. Whenever he sees this mini "him", he will think of you.
Business Suit Office Man With Thumbs Up
Personalized Bobble Head For Sports Lover Boss
Apart from work, what sports hobbies does the boss have? If you want the boss to put the bobblehead doll at home as a souvenir, you can customize a mini "sports him" as surprise. The most popular sports model on our website is golf bobbleheads. 
If you are a resident physician now, why not take this opportunity to express your gratitude to the attending doctor who instructed you? Officially because of their help, your medical skills will be more exquisite and have clinical experience.
Custom Female Doctor Bobblehead
Custom Bobblehead Dolls for Sales Manager
Customized dolls for sales managers can not only be used as gifts for Boss' Day but also as a way of company marketing. There are many real estate companies customizing real estate agents bobbleheads for their employees and bosses.
Female Real Estate Agents Bobblehead
Male Real Estate Agents Bobblehead
In conclusion, personalized bobblehead gifts are the present trend of the market, though they themselves have been around for a really long time. A Mini custom bobblehead dolls just like him will surely surprise the boss.