Custom Couple Bobbleheads - 2023 Unique Valentine's Day Gifts
Custom Couple Bobbleheads - 2023 Unique Valentine's Day Gifts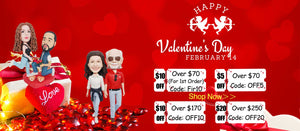 February 14th - Valentine's Day is a Big Day for those romantic couples. Why not custom couple bobbleheads as gifts to freeze the beautiful moment between you?

Giving gifts on Valentine's Day is a way for people to express their love and appreciation for one another. It can also be the best time to remind your partner of how much you love them and to keep the romance alive in a relationship. After all, who doesn't want to receive a gift from their loved one on Valentine's Day?
Then how choosing a Valentine's Day gift has become a problem for many people. In fact, no matter what gift you choose, the heart behind the gift is what the recipient cares most about.
Tips for selecting gifts
①Romance on a low budget
If you are on a limited budget complying after the Xmas vacation, you could just express your love with a sweet Valentine's Day card, it will be better if you say "I love you" at the same time. Or you could take over her kitchen duties for a day and cook your sweetie Valentine's Day-themed deal with.
If you are married and have a child, you can leave the child with your parents, and enjoy the happiness that just belongs to you and your wife, just relax yourselves.
These presents may be inexpensive, but their reactions will be priceless.
②Traditional gift ideas

Some popular Valentine's Day gift ideas for couples include:

Jewelry, such as a necklace, bracelet, or earrings
Flowers and chocolates
A romantic getaway or weekend trip
A romantic spa day
A gift certificate for a favorite store or activity
A book or music album from a favorite artist

It ultimately depends on your lover's preferences, It's better to think about what they like and what will make them happy. The most important thing is to show that you care and put thought into your gift.
③Personalized gift
Customized gift for Valentine's Day shows that the giver put thought and love into selecting a personal and meaningful gift for the recipient. It can also add sentimental value to the gift, making it a lasting reminder of the occasion. Additionally, a personalized gift can be tailored to the recipient's interests or preferences, making it more likely that they will enjoy and appreciate it. Such as a picture frame or a custom piece of art.
Why custom couple bobbleheads as Valentine's Day gifts?
A personalized bobblehead is a miniature figurine that is made to look like a specific person. These figurines are popular as gifts because they are unique, personal, and fun. Custom bobbleheads can be made to resemble anyone, including your significant other. They are typically made from high-quality polymer clay and are hand-sculpturing to make them as realistic as possible.
Here are the benefits of making bobbleheads as gifts:
①Unique and personal
A bobblehead made to look like your significant other will be a one-of-a-kind gift that they will treasure for years to come. They will be able to see themselves in the figurine and will be reminded of your love for them every time they see it.
②Funny
They have a playful and whimsical nature that is perfect for Valentine's Day. Your significant other will likely enjoy displaying the bobblehead in their home or office, and they may even enjoy playing with it as well.
③Amazing likeness
Another advantage of customized bubblehead is that they can be made to look like any couple. It doesn't matter if you're a same-sex couple, an interracial couple, or any other kind of couple, a custom bobblehead can be made to resemble you and your significant other.
One thing to note is that bobbleheads are made to order, so it is important to plan ahead when ordering it for Valentine's Day. It typically takes several weeks for a personal bobblehead to be made and shipped, so you will want to order your doll well in advance of the holiday.
In fact, after experiencing COVID-19 and the economic downturn, what could be a more precious gift than for us to be healthy together? Whatever gift you choose, even if it's just a hug, do not doubt that it is love. No matter what time and occasion, our custom bobbleheads team will tailor your gift to meet your needs.