Custom Couple Bobbleheads As 2022 Valentine's Day Gift
Custom Couple Bobbleheads As 2022 Valentine's Day Gift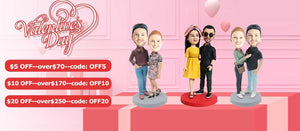 Valentine's Day is a great time to shout out love, especially for people who are in love or single but have a crush. Choosing a cute gift is one of the most direct ways to show your love. As for distinct and significant presents go, you are not most likely to do far better compared to a custom bobblehead doll.
Obviously, in order to get an excellent bobblehead, you need to group up with a great maker. You are most likely to depend upon him for the joy of your loved one on this big day, so ensure that he can provide face proof at least, then you could make sure the likeness of the bobble head.
It is a meaningful idea to personalize bobbleheads from your photo than choosing a couple of models on the website. You can select your preferred photo of both of you with each other or an unforgettable photo. For instance, it can be a photo of your initial holiday with each other or a proposal photo. Ensure that it is a head-to-toe photo to ensure that the bobblehead maker could custom the pose and clothes for you. One of our customers has customized bobblehead based on their proposal photo, which is very cool and meaningful.
Cute Couple Bobbleheads Models For Your Option
We provide a variety of couple bobble heads in different poses and wearing different costumes. You can choose your favorite theme, such as beach couple, ski couple, Dodge team couple, sports couple, fashion couple, etc.
Stylish Cusom Couple Bobblehead
Walk On The Marine Beach Couple Bobblehead
Dodgers Baseball Fans Couple Bobbleheads
A hand-made product today is still more valued due to its distinct nature and the workmanship it programs. Custom bobbleheads can fully highlight your love for the person who received the gift. When comparing bobble heads with typical flowers, boxed chocolates, and crazy dinners, your gift will stand out and can be stored for a long time.