Custom Doctor Bobbleheads As 2023 Best Doctors' Day Gifts
Custom Doctor Bobbleheads As 2023 Best Doctors' Day Gifts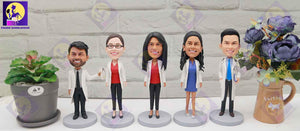 All over the world, Doctors' Day is commemorated, as most of us identify the contributions that medical professionals make in the community and to personal lives. Especially now, during the COVID-19 pandemic, no one can forget the contributions of our medical professionals (doctors and nurses) who use their expertise to save our lives. March 30 is Nationwide Doctor's Day 2023 in the United States, which is a perfect chance to reveal appreciation to the women and men that dedicate their lives to taking care of us. Why not custom doctor bobbleheads as a surprise gift?
There are many different ways that Doctors' Day can be celebrated. The first thing you should do is to make sure that your doctor knows that he or she is appreciated and to show them how much we appreciate their efforts. Then we can show our gratitude through some special gifts. As for what kind of gift is appropriate, let's take a look at one doctor's statement: "Occasionally a patient would drop off a gift...the monetary value had absolutely no significance and in fact, the higher the value, the more inappropriate and embarrassed I felt. I was, after all, well compensated for my work." That's why we recommend personalized bobbleheads as gifts.
1.1 

Doctor Bobbleheads dolls -- Cost around $80 -- Not expensive

Compared to those luxuries, an $80 gift is not expensive, and basically, everyone can afford it. Doctors don't have to worry about being punished by hospitals for receiving expensive gifts.
1.2 Unique bobble head Gifts --- Just Like Your Doctor
Regardless of what occasion the physician in your life has turned up, selecting a unique present will make them really feel valued. Make sure to suit your doctor's presents to their character and career, they'll constantly treasure it. At this time, a customized doctor or nurse doll can perfectly fit your needs.
You just need to provide a picture of a doctor, then choose the appropriate doctor model, such as a dentist, nurse, surgeon, ophthalmologist, etc. After submitting the order, you will get a mini doctor with amazing likeness.
Female Custom Doctor Bobblehead
Female Dentist Bobblehead Holding Toothbrush 
1.3 Funny Bobbleheads Make Your Doctor Laugh
Provide doctors in your life a great tummy laugh by customing these cute doctor dolls. Besides, giggling is the very best medication. With the head of the dolls bobble, your doctor will smile when they see them every time. Then they'll spread out delight to everybody about them and make the world better in more methods compared to one.
1.4 Doctor Dolls -- The Most Personalized Doctor Team Rewards
There's no rejecting that health care has been one of the most critical industries in the world. Tasks in this area are likewise obtaining increasingly more progressed and made complex. Developments are being made in medication all the moment, with physicians having actually more info and devices at their fingertips compared to before. At the same time, doctors are no longer fighting alone, but are becoming more and more team-based.Before Doctor's Day, why not create some special gifts for your hospital's team of doctors to reward their hard work? Many of our hospital clients are already doing this!
On National Doctors' Day, we state "thanks" to our doctors for all that they provide for us and our liked ones. Durning Covid-19, greater than ever, we understand the sacrifices they make to place the health and wellness of the person initially. Hopefully these meaningful custom bobbleheads can help doctors feel our respect for them outside of work!