Custom Wedding Bobbleheads As Your Unique Wedding Cake Topper
Custom Wedding Bobbleheads As Your Unique Wedding Cake Topper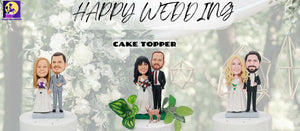 Wedding day is undoubtedly the big day of our lives. Why not make a custom wedding bobblehead as a wedding cake topper to make the day more unique and fun?
Usually, the bride and groom will spend a lot of time and money preparing for their wedding to make sure that everything on the wedding day is beautiful and memorable. They will be busy preparing wedding dresses, wedding venue, invitations and gifts for guests, and so on, but the most that can not be ignored is the wedding cake.
How to select wedding cake topper? 
There is a growing selection of wedding cake decorations for couples, from laser-cut letters, flower decorations, wood-carved figures and photos, to groom and bride silhouettes and country-themed animals, you can easily find them all online turn up. You just need to pick out the cake decorations that match your wedding style.
We have interviewed many couples who are preparing for the wedding as well as professional cake makers. They all think that cake decoration for the wedding should be chosen and made in advance, rather than rush preparations on the eve of the wedding.
During this process, you should confirm the size of the top layer of the cake with the baker firstly, then choose the matching wedding cake decorations.
Wedding Cake Topper Tips
①Customizable
A unique and memorable wedding cake topper will definitely make the finishing touch to your wedding. Customizable cake decoration will be your first choice. You can customize wooden name strips according to the names of you and your lover, you can also integrate your love tokens into the cake decorations, or it can be your favorite animal models.
②Reused post-wedding
In addition, many couples now hope that their wedding cake topper can be kept as a souvenir after being used at the wedding. After all, who could resist seeing the decorations that symbolized their love every year on their annual wedding anniversary? How romantic!
③Time of placing cake topper
So, is the topper that the couple ought to put on the cake the early morning of the wedding day? Preferably, it is better to put it when your baker drop off the cake at your wedding vanue. If you have to place topper yourself, be careful to be gentle.
After the wedding, ask your coordinator or somebody in the wedding event celebration to provide the topper to a relative for safe-keeping. When you return from your honeymoon, you can show it someplace in your house or workplace, or maintain it covered securely in a box of your wedding event memories.
Creating a wedding bobblehead as a cake topper will erase the monotony of ordinary cake topper designs for wedding celebrations. More and more couples personalized wedding bobbleheads of themselves and they all amazed their guests. And most importantly, the wedding bobble head also meets the points mentioned earlier in the article when choosing a topper.
Wedding bobblehead dolls typically cost around $150-200, which is a lot of savings compared to a set of custom cake toppers for wedding occasions that cost around $1000-$1500. In the case of economic inflation, it is the wisest choice to spend the least money and get the same or better results.
Many of our customers have already made their own dolls, and as wedding cakes, they typically choose a height of 7 to 8 inches. This is to ensure that the bobbleheads will fit perfectly on top of the wedding cake. It might take a year or two to prepare for the wonderful wedding event. Nevertheless, it just takes a couple of mins to purchase wedding bobbleheads for bride and groom. Surprisingly, custom groomsmen bobbleheads are actually the most creative gift ideas.
If you're wishing to custom wedding bobbleheads, you ought to place an order a minimum of a month previously the ceremony. All of these bobbleheads are handmade and need sufficient time to sculpture and modify. After you get the face proof, please pay attention to the modify, which could make sure to have a life-like doll. After you confim them, manufacturers will ship them to you.
For your perfect once-in-a-lifetime wedding, no amount of preparation is too much, go all out for your wedding! A custom wedding bobblehead is sure to be the coolest and funniest part of your wedding.