Figure Bobblehead Finished Customized Bobbleheads Show
Figure Bobblehead Finished Customized Bobbleheads Show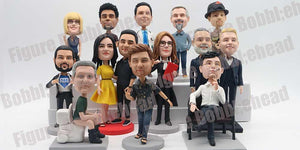 Black Friday and Christmas is coming soon.  Are you still worrying about choosing what gifts to give to your friends and family?
Trust Figure Bobblehead, customizable bobblehead is your best choice.
We provide Black Friday Sale Bobblehead for you !
Most of our customers have already started ordering bobbleheads for their family and friends. The following are some of the finished bobbleheads by our craftsman.
Our craftsmen is customing more bobbleheads now. Hurry up and customize your bobbleheads!  
Figure Bobbleheads will share more finished bobbleheads in the future. 
If you have any other questions, please feel free to contact us with email sale@figurebobblehead.com.