How To Buy The Best Bobble Head?
How To Buy The Best Bobble Head?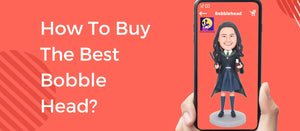 As a bobblehead fan, you're no doubt aware that bobbleheads fall into the following categories - cartoon characters, TV and movie stars, political figures, Disney, and sports - such as baseball and football. These cute dolls have larger heads, which makes them more interesting and attractive. So many people have formed the habit of collecting bobbleheads. If you're one of them, it's time to think about how to maximize your purchase and collection of these fun things.
Before you start collecting, you need to define your goals. Do you want to collect some memorable bobbleheads, such as the famous Beatles, or do you want to collect some of your favorite football players or celebrities? One more tip is that now you can even custom bobble head from your photo now. Only after clarifying your goal, you will know where to buy the best bobblehead doll for you.
No matter what type of bobblehead you want to buy, the Internet is undoubtedly your best tool.  If you're looking for a collection of memorable dolls, check the websites of TV shows and tournaments, which sometimes post special collections for fans, such as a unique bobblehead of a milestone athlete.
In addition to this, you can also check out several online auction platforms such as eBay, Listia, eBid, etc. You can check to see if the dolls you want are available on these sites, then bid on them, and if approved, you will be able to own them.  Another secret way to get a bobblehead is to join a group that collects bobbleheads.  For example, you can search for a keyword on Facebook, Quora, or Reddit and then join a related group, which has many people selling early dolls of athletes and celebrities.
What's amazing now is that even if you're just an ordinary person, you can get your bobblehead through some online customized websites.  To get these sites, you can do a Google search for "custom bobbleheads" "personalized bobbleheads" or other keywords like that, and you can easily find sites that offer customization.
But one problem is that if you haven't customized a similar product before, you may have a hard time picking out a reliable site.  You may spend time and money, and end up with a stencil that looks like you 50% or less.  To help you buy the best personalized bobblehead, here are a few tips for reviewing websites:
① The design of the website is professional and the ordering process is simple
For websites that offer customized products, what they want to do is make it easy for customers to get their ordered products on the website.  For customers, all they have to do is provide information and pay, and the complex production process and transportation are the services that the website itself needs to do.  If you find the overall design of a website confusing and the ordering process complicated, then I urge you to look for another website.  A poorly designed or hastily cobbled website can be a red flag.
② Authentic customer reviews
Try looking for customer reviews and recommendations on the website, or on other well-known third-party platforms such as Trustpilot. Check that the review is genuine and from a real customer.  After all, there are many websites that make up or steal fake reviews from others.
③ Real contact information
In the process of customizing the doll, you need to contact the manufacturer to communicate the details of the production, so you can check the website to see if there is clear contact information, such as an email or phone number.  It is suggested that you can test the authenticity of the merchant by sending an email first, and you can also judge the service quality by the speed of the merchant's reply to the email.
④ Check whether there is a clear return policy and refund policy
For customized products, most websites do not accept refund returns after delivery, so before you decide to customize the doll, please check the refund return policy on the website. On the one hand is to judge whether the website is reliable, on the other hand, is to see whether their relevant policies you can accept.
If a website meets the above points, then congratulations you have found a trustworthy website.  According to the survey, the price of custom dolls is generally around $60-150, depending on whether you customize a single or couple.  If you are only looking for a low price, then the service they provide may be very disappointing to you.
Custom figures are amazing gifts, especially when you pay attention to detail to make them unique to the person you're giving them to.  Visit Figure Bobblehead website today and create your custom bobblehead gift.