Make Your Own Bobble Head As Gifts
Make Your Own Bobble Head As Gifts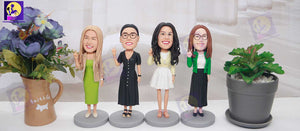 When I was browsing Reddit recently, I found that the most popular topic was: What gifts to give my girlfriends or relatives? People generously gave their suggestions under the question, but I found that most of the gift suggestions still stuck with ordinary gifts such as skin care products, shopping cards, massages, etc. The people who asked the questions had obviously considered these gift options and found ordinary gifts didn't meet their requirements, so they raised their questions. For me, I focus more on the personal touch and uniqueness of a gift. So why not make a bobblehead as a unique and memorable gift? Best of all, these whimsical, customizable bobble heads are popular as personalized gift options that can bring a smile to anyone's face.
The Magic of Bobblehead Dolls
Bobblehead dolls originated in the 18th century. After a long period of development, they have transformed from cartoon toys into doll gifts that can be customized for ordinary people through photos. The special thing about bobbleheads is that the craftsman can capture the essence of the character through the photos you provide to create your own bobblehead. Whether it's family, friends, or even a beloved pet.
Why Choose A Bobblehead As Gift?
Gift Options For All Occasions: Customized bobbleheads can perfectly match all the occasions you need to give gifts, whether it's birthdays, anniversaries, graduations, weddings, Father's Day, Mother's Day, Christmas, etc. You can personalized bobblehead gifts for people around you. You can even create unique bobblehead cake toppers for your wedding or anniversary celebration.
Unlimited Creativity: When ordering a bobblehead, you will find that the options you can choose are endless. You can tailor dolls to the recipient's interests, and offer some of their favorite poses and costumes in real life. You can even design some quirky poses if you both like humor, such as bobbleheads siting on the toliet.
Memorable and Lasting: The bobblehead will always stand out among other gifts and be remembered. Compared with other ordinary gifts, these dolls can also be kept forever. Every time the gift recipient sees their bobblehead, it brings back fond memories of the occasion and the person who gave it.
Personalization: The main reason for the increasing popularity of customized products is their uniqueness. Compared with ordinary gifts, people increasingly prefer gifts that can be personalized because they contain their personality or characteristics, such as personalized bracelets, necklaces, etc. with your name. A custom bobblehead is a heartfelt and personal gift that shows you put thought and effort into creating something truly unique.
How To Make Your Own Bobblehead Doll?
Creating your own bobblehead may sound like a complicated task, but it's easier to achieve than you think. You can find many companies on Google that specialize in providing customized bobblehead doll services, and then you can follow the following process to make your own doll.
Choose a theme: Whether you are making a bobblehead for yourself or giving a gift to someone else, you need to confirm the theme of the doll first. It is recommended that you first learn about the recipient's occupation or interests, and then choose a relevant theme. If you don't find a theme you like, you can also choose full-body customization and make a bobblehead based entirely on the photo information you provided.
Choose a pose: There are dolls wearing different costumes and different poses under different themes for you to choose from. For example, if you choose a golf-themed doll, you can choose one with a classic golf swing, or you can choose a standing position with a club.
Provide a photo: If you choose a model on the site, then generally you only need to submit a frontal picture of the figure, and then the artists will refer to the picture for creation.
Customization options: After submitting a photo, you can choose to let the artist create the skin tone, eye color, and hair color of the doll based entirely on the photo, or you can choose from a variety of options available on the website.
Accessories: To make your bobblehead more personalized and fun, you can add accessories such as birthday hats, capes, flowers, headphones, and even select special bases such as "books", "hearts", and "beaches".
Review and approval: When you place your order, most companies will send you a preliminary sculpted face sample within a certain time frame based on the sculpted options you have selected. If you are satisfied, you can approve the next step. If you are not satisfied, you can propose changes until you are satisfied.
Delivery: Bobbleheads are generally handcrafted by artisans and may take several weeks to arrive depending on the engraving options and shipping method you choose. Please wait patiently for your beautiful gift to arrive.
Give the gift: When the bobblehead arrives safely, you can present it to the recipient in a special and creative way. You can wrap it in a beautiful gift box, place it in a prominent place for him to discover, or even let him unwrap it himself.
Tips For Making Bobblehead Gift
Attention to detail: The key to creating a fantasy bobblehead is the details. The artists use photos to make the dolls, and you are definitely more familiar with the person receiving the gift, so take the time to focus on the details of the doll, such as the shape of the eyes and the curvature of the smile.
Plan ahead: It takes about 10-30 business days from the time you place your order to the time you receive the doll. So plan your gift in advance, especially if you have a deadline time.
Giving a custom bobble head as a gift is a creative and warm way to show that you care and value someone. When these playful figurines are placed on the desk at home or office, the recipient will think of you every time they see them. Whether it's a birthday, anniversary, graduation, or any other major event, a custom bobblehead is a unique and memorable gift that is sure to bring joy to the recipient. So why opt for a regular gift when you can make a personalized doll? You deserve your own doll!